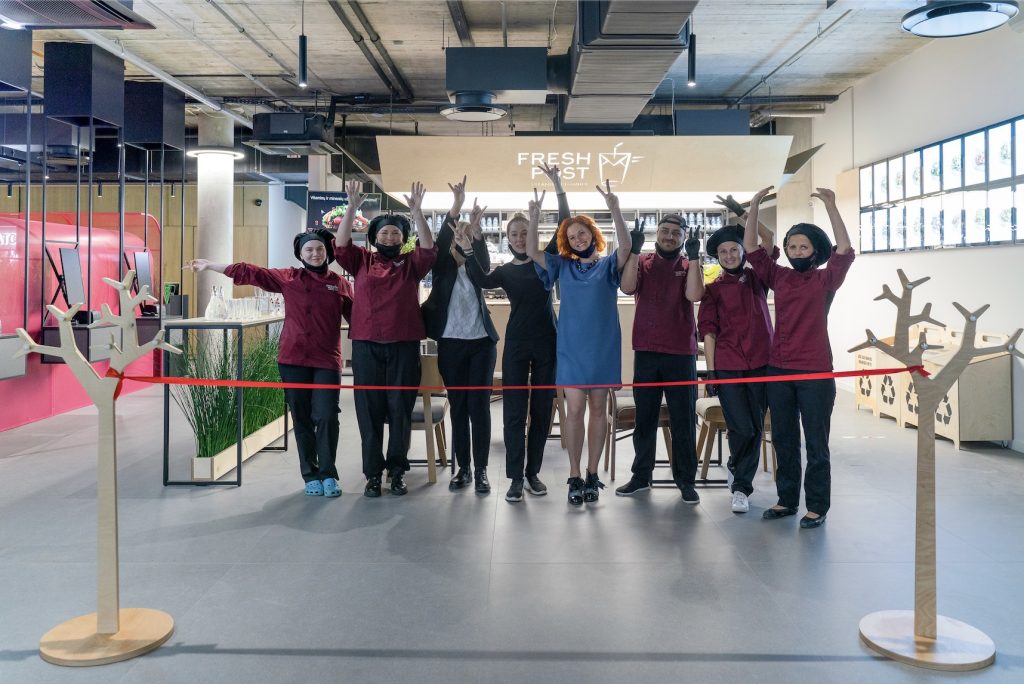 Opening of the long-awaited salad bar "Fresh post" in the "Magnum" business center of Kaunas
Opening of the long-awaited Fresh Post salad bar in Kaunas' Magnum business center
On Tuesday, in the new business center "Magnum" (Karaliaus Mindaugos pr. 38, Kaunas), the salad bar "Fresh Post", which is very popular in the capital and has been destroying myths about salads for more than five years, opens its doors. According to its founder, Inga Tribuišienė, the restaurant, distinguished by its freshness, organic nature and tasty salad properties, came to Kaunas on the initiative of the Kaunas themselves.
The new salad bar is an initiative of the people of Kaunas
"I have to admit that the development of "Fresh Post" in Kaunas was encouraged by the people of Kaunas themselves. First of all, we have been receiving countless requests on social networks and e-mail for some time. letters with questions about when we will come to Kaunas. Secondly, a few years ago, the developers of the Magnum business center, which was still under construction at that time, approached us and invited us to settle here. True, at that time we really had no idea that we would open under such conditions. However, we have a lot of faith in the already proven product, so we hope that the development in Kaunas will be successful", says I. Tribuišienė.
Opening its doors on Tuesday in the new Kaunas business center "Magnum", the salad bar "Fresh Post" will offer the residents of Kaunas and guests of the city a salad menu already recognized by customers, consisting of 18 different options. Customers will also be able to enjoy fruit and vegetable cocktails and dishes from the balanced "Fresh Post" breakfast menu. All customers are treated with ionized alkaline water free of charge.
The menu of the salad bar, according to its founder, is based on three main values ​​- balanced nutrition, freshness and organic. All salads begin to be prepared only after the customer orders them, and thanks to specially designed kitchen solutions, the customer can observe the entire production process.
"The customer can adjust the proposed menu choices by himself – add the desired ingredient or remove the unwanted ingredient. All salads are prepared on the spot, without pre-preparations. In this way, we ensure both freshness and the highest taste qualities. It's true, we fully understand that in today's world, time is also extremely important, so production takes place very quickly. On average, it takes about 5 minutes to prepare a salad," says the founder of Fresh Post.
Kaunas residents visiting the salad bar will soon notice that not only Fresh Post's menu is unique, but also the salad presentation solutions. All Fresh Post salads arrive in customized, recyclable boxes with a unique design, both for take-out and for eating on site.
Salad that destroys myths – and to the house
The founder of the salad bar is happy that during the five years of operation, the Fresh Post team managed to disprove several myths about healthy and balanced nutrition. Fresh Post salad is a daily favorite of both men and women who love a hearty lunch, as well as children.
"We often hear that salad is just a snack or the choice of people who take great care of their figure. We are very happy that we managed to disprove these myths in Vilnius. The majority of our customers are men, who keep coming back for hearty, delicious, fresh and balanced lunches. It is true that one of the salad bars operates next to the school, so we observe and are happy that today's youth also cultivate correct eating habits. The salads we make, such as Caesar, are very popular among the little visitors as well," says the head of Fresh Post.
For now – takeout
Magnum business center at Karalias Mindaugos ave. 38, the Fresh Post salad bar will be open every working day from 9 a.m. to 6 p.m. Customers can order desired salads, fruit or vegetable cocktails and breakfast dishes not only for take-out, but also for home delivery. After the country's restrictions on visiting public places, customers will be able to have breakfast, lunch or dinner inside the salad bar.
"Opening our doors today, we focus on customers who combine work in the office with work at home. It is no secret that it is difficult for everyone at home to have such a selection of fresh ingredients as our menu. We are solving this problem and we are ready to quickly deliver all orders to the address specified by the people of Kaunas", says the founder of Fresh Post.