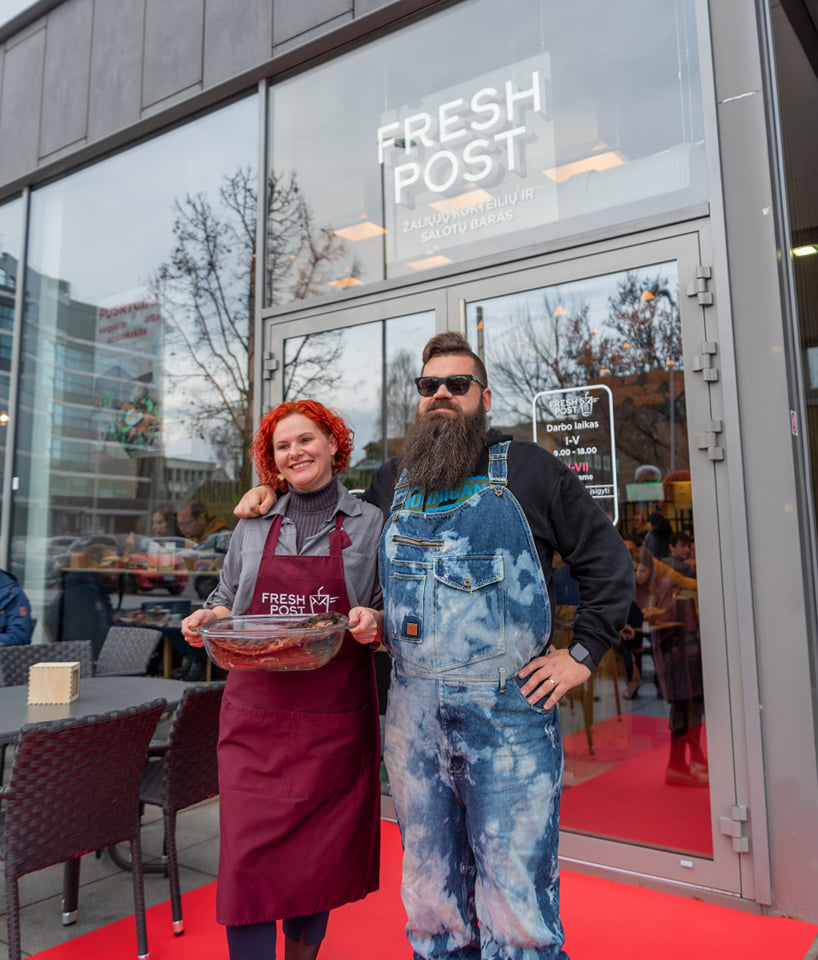 Our special lunch of the day with grilled dishes by BBQ chef Vyliaus Blauzdavičius
November 13 Something from the realm of fiction happened at our place:  passers-by, guests and employees of nearby offices enjoyed the  indescribably tasty ribs prepared on the grill by BBQ professional, ambassador of "Viking The Chef", chef Vylias Blauzdavičius, seasoned with fried potatoes and, of course, our fresh and crispy salad . As those who ate it said, it was simply impossible to resist this taste result.  
According to Inga Tribuišienė, the founder of FRESH POST, the idea to organize such a crazy event in the city center arose in order to help the residents of the capital to get away from the abundance of work: "We noticed that many Vilnius residents are constantly in a hurry, during work they do not have time to eat, enjoy the lunch of the day and the taste of food. We talked to chef V. Blauzdavičius and decided to lift the mood of the townspeople by cooking them delicious dishes in the heart of the city at lunchtime."
We are glad that such a large group of people gathered to taste the grilled dishes. This proves that it is possible to look at the daily lunch in a more original way, paying more attention to the quality of the food. It only took a little time for lunchtime to turn into a small celebration. Thanks to chef Vylis ! I want to believe that this is the first time, but certainly not the last time !
More about the event:
https://www.moteris.lt/lt/virtuve/g-59910-gerumo-dienos-proga-fresh-post-salotu-baras-ir-bbq-sefas-v-blauzdavicius-kviete-ypatingiems-pietums